Daily Bulletin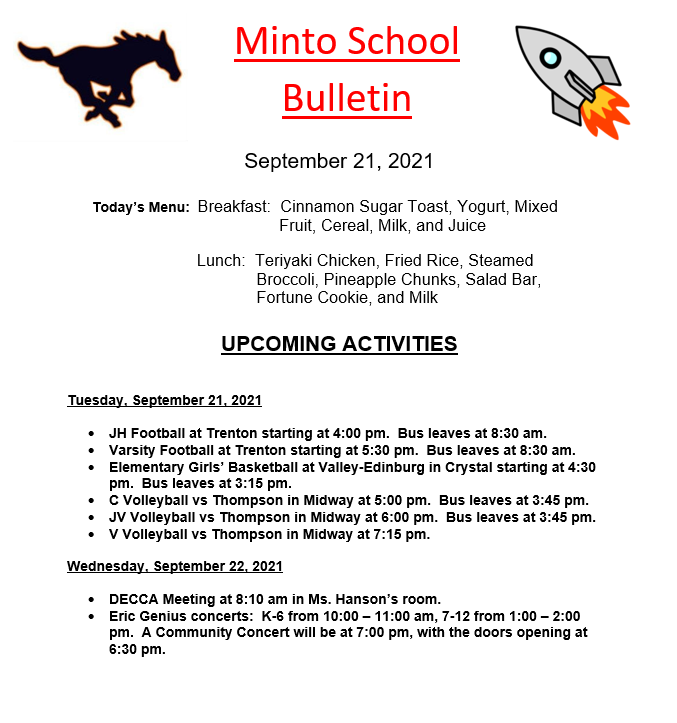 Eric Genius Concerts on Wednesday, September 22, 2021 for Grades 4-8 from 10:00 - 11:00 am. Grades 9-12 from 1:00 - 2:00 pm. There will also be a free community concert at 7:00 pm in the Minto School Gymnasium. There will be a free will offering at the evening concert.

Elementary Football practice for today has been cancelled.

Daily Bulletin

Minto Rural Fire Protection Calendar Draw Winners! Thanks for your support.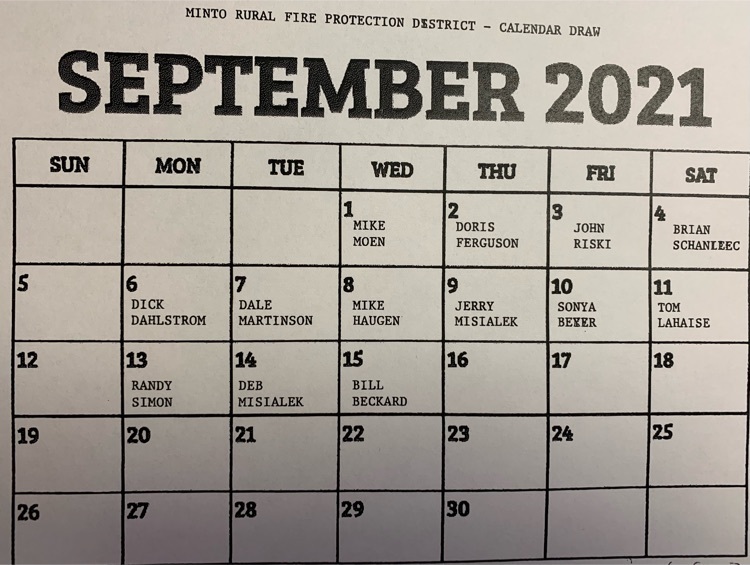 Daily Bulletin

The Elementary Girls' Basketball against Cavalier that was scheduled for Thursday, September 23rd has been move to Thursday, September 30th at 4:30 pm. GO ROCKETS!

💫 MEET THE MUSICIANS 💫 (3/3) Alex Winter is a cellist from Berkeley, CA. He earned a master's in cello performance from Florida State University and bachelor's degree from California State University, Sacramento, where he was awarded scholarships for chamber music, historical performance, and solo performance. As a winner of his school's concerto competition, Alex performed the Schumann Cello Concerto with the CSU Sacramento Orchestra. He has performed chamber music at festivals in New York, Vermont, and Lake Tahoe, California, and has performed with orchestras including the Tallahassee Symphony, North State Symphony, Pacific Chamber Orchestra, Merced Symphony, Northwest Florida Symphony, and Townsend Opera. Alex grew up in San Francisco with his identical twin brother. During his time off he enjoys playing sports, hiking, backpacking, and swimming. His favorite teams are the San Francisco Giants and the Sacramento Kings.

Daily Bulletin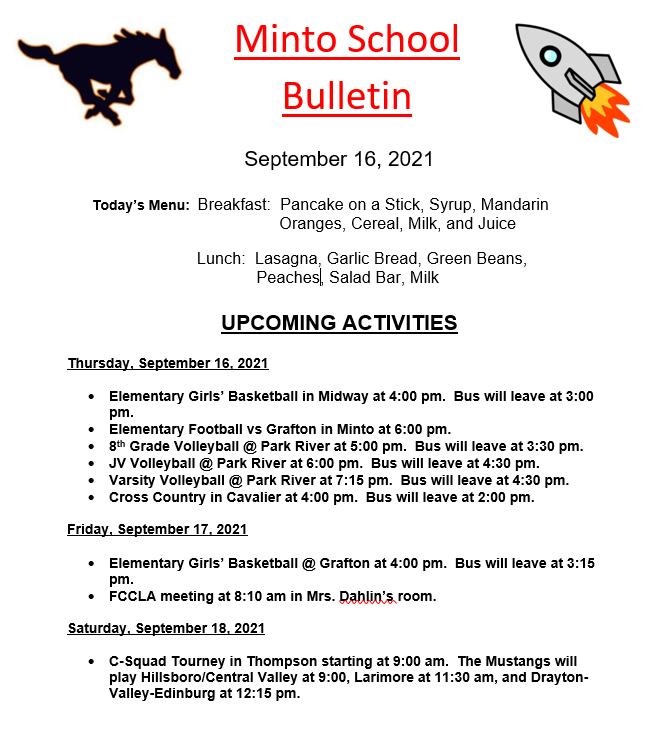 Miss Severson's class wants to thank everyone sponsor for their book they received this month. We love them!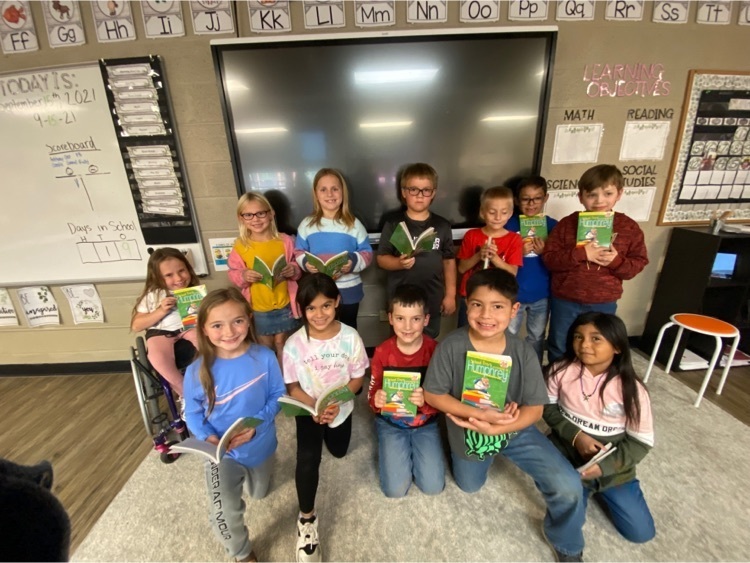 If you are not receiving alerts or are concerned you are missing something, please go into your child's powerschool and update your phone numbers as some numbers we are finding have changed.

The junior high football game against Cavalier on Monday, Sept. 20th has been cancelled.

Mustang Volleyball results: Junior Varsity Nelson County 2 Mustangs 1 Varsity Nelson County 3 Mustangs 2

Junior High Volleyball results from Nelson County. 7th Grade Nelson County 2 Mustangs 0 8th Grade Mustangs 2 Nelson County 0

Daily Bulletin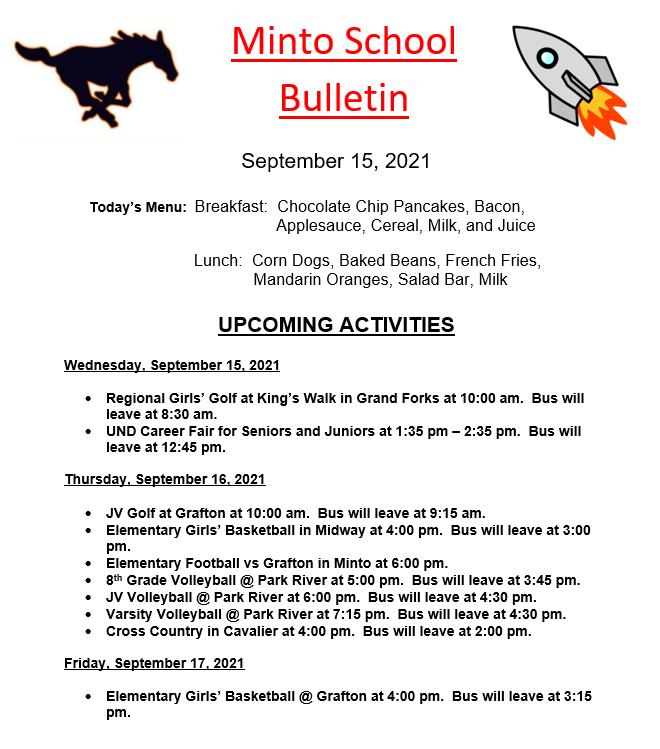 Daily Bulletin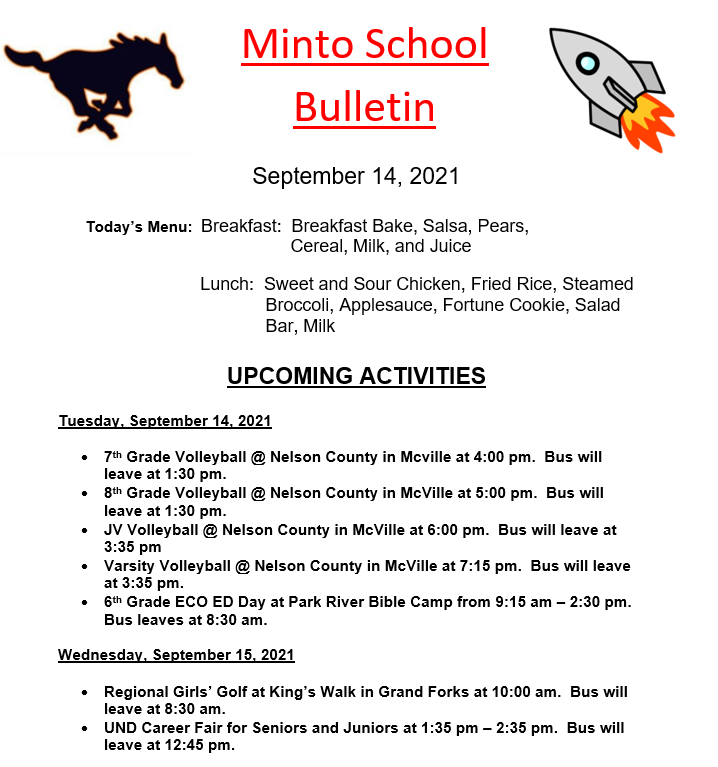 Eco Ed Day is back, on September 14th! It is a great opportunity for 6th graders to learn about forests, prairies, wildlife, riparian areas, watersheds, and wetlands taught by professionals working with these ecosystems! Students learn about issues taking place in their own back yards so to speak, including soil erosion and blue algal blooms on ND lakes. Students will leave at 8:30 am and return by the end of the day. Remember to dress appropriately for the weather.

Daily Bulletin

Varsity football final: Center-Stanton 55 Midway-Minto 44 Great effort by the Mustangs tonight!

Grandparents Day Lunch was a great success! Thank you to everyone who was able to partake, the kids sure love when you come! Also thank you to all who attended this years book fair, we had such a good turnout!