There will be NO high school volleyball practice tomorrow, Monday October 18, 2021.

Daily Bulletin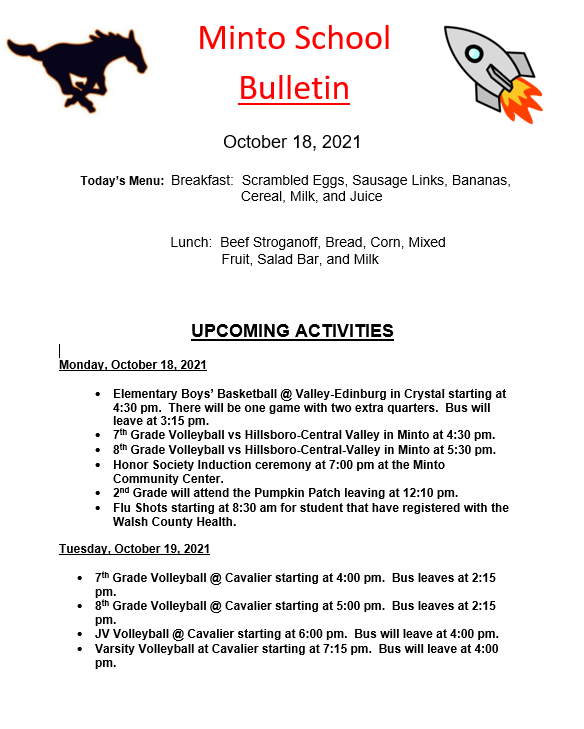 Fall 2021 - Cheer Fundraising is now open! There is spiritwear available for your family and friends. Check out the shop details below. OUR SHOP DETAILS - Shop Now:
https://bit.ly/2YUHhOk
- Store Open From: Oct 15 - Nov 2, 2021

Daily Bulletin



Flu shots will be Monday, October 18 starting at 8:30am. Click on the following link for information on how to get your child registered!
https://5il.co/10gfk

The 2nd grade class trip to the pumpkin patch that was scheduled for this afternoon has been cancelled due to the rain. It has been rescheduled to Monday afternoon-October 18.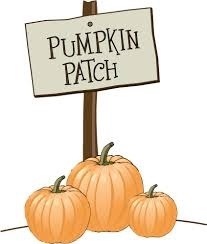 Daily Bulletin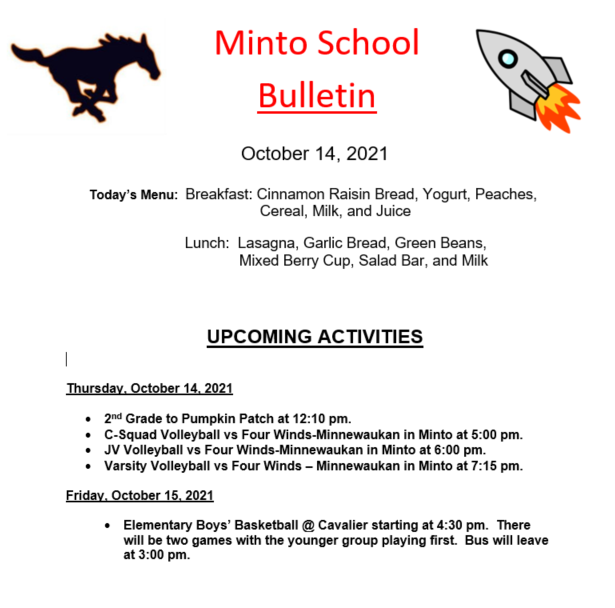 Daily Bulletin

Minto Families! Minto MUSIC/BAND/CHOIR Apparel is NOW on sale!!! The "store" closes THIS Friday!! (Closes at midnight on Friday, Oct. 15!) This is for Minto Students K-12! Please shop with the link below. T-shirts, long sleeve 1/4 zips, hoodies, etc. Choose your style, color, and size! (Be sure to specify youth vs. adult sizes) These items will definitely be delivered before Christmas! ***If certain sizes or colors are not available, this is true. (ordering certain items/sizes/colors has been a challenge this year.) If you have any questions, contact Miss Koop
misti.koop@mintoschools.com
https://www.bsnteamsports.com/shop/rGgfT5uabK


Daily Bulletin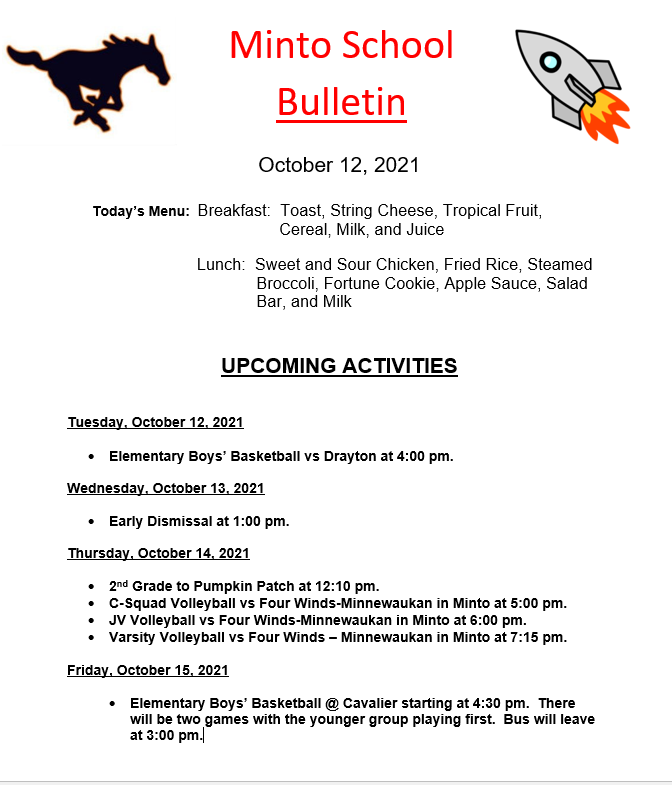 Games have been added to the elementary boys basketball schedule. We will travel to Cavalier to play 2 games starting at 4:30 pm on Friday, October 15th, 2021. . The younger group will play at 4:30 pm, followed by the older group at 5:30 pm. The bus will leave at 3:00 pm.

Daily Bulletin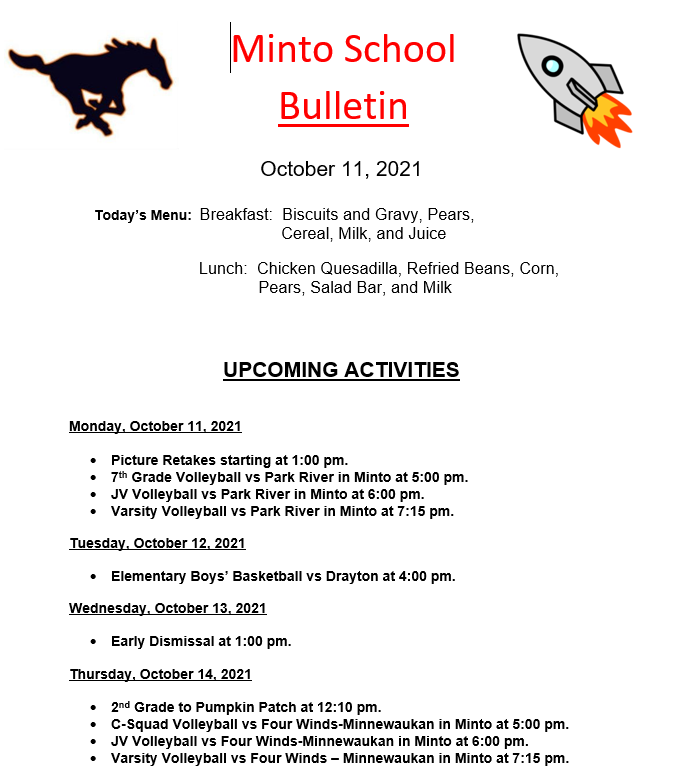 Elementary boys basketball pictures for grades 4-6 will be Monday, October 11, 2021. Please make sure you have your uniform at school on Monday. Forms were given out today at practice.

Due to the weather, 2nd Grade will not be going to the Pumpkin Patch today. They will be going on Thursday, October 14, 2021 at their scheduled time.

Daily Bulletin

A reminder, since tomorrow's football game is a playoff game, NO PASSES will be accepted. Admission is $7.00 for adults and $5.00 for students. GO MUSTNAGS!

6-Man Playoff Schedule